Customer Reviews
WOW! I can't believe it
I saw an almost identical sofa at Crate and Barrel which I fell in love with. I was ready to pay $3000+, but I thought first I'd do some research online. When I found this poly and bark essex Chesterfield style sofa, I was a little hesitant since the price was kind of low and there weren't any reviews. But for the price savings, I figured I'd take the gamble - AND I'M GLAD I DID. This sofa is fantastic! Really, I can't believe the quality of this thing for what I paid - it's better than the ones I saw at some brand name stores! The leather feels great and you can tell it's real leather (unlike some sofas where it's hard to tell if it's plether or the real thing), and the cushioning is perfect, just the right balance of soft and firm. For anyone on the fence about this item, go for it. You won't regret it. Happy hunting!
10/25/2019
FERNANDO C.
United States
No drilled leg holes!
Received a sofa without the drilled holes for the wooden legs, waste of time, 2 weeks to receive a refund after returning it.
10/21/2019
Nisha S.
United States
Leather Sofa Arrives Damaged After Second Try
Poly & Bark is a company clearly not capable of packaging their own inventory/finding a courier/delivery service that can deliver without damage. I ordered a leather sofa (leather is fragile) and it arrived gashed and with an open box......I refuse and wait for a replacement only to find out 30 days later that my order was cancelled and not replaced. Enter 3 weeks later.... the sofa arrives with a hole and 2 gashes AGAIN. I am clueless as what to do. Truly disappointed- this is not 2001. This is 2019- please ship things with care and the integrity your brand promises.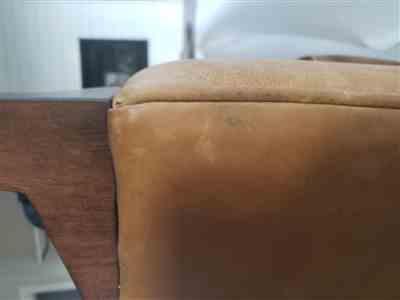 10/06/2019
Andrea K.
United States
Beautiful!!
This sofa is beautiful and very high quality for the price. I really didn't believe it would be as high quality as advertised for such a low cost point. It is very comfortable and is breaking in nicely. My only bit of somewhat negative feedback is out of the box, it had this odd white, waxy look in the textured areas of the leather. It looked almost marbled and not deep black as shown in the photos. I used leather cleaner/conditioner and this came right off, revealing dark black leather as described in the listing. Shipping was an overall terrible experience, but this awesome sofa was totally worth it!
09/27/2019
Kelli V.
United States
Essex Sofa
What an easy experience I had with Poly and Bark. Our couch is fantastic, stylish with a little retro flair. Super soft leather and we definitely get compliments on it. Much less expensive than other sites, yet not "cheaper". Great quality and we are very pleased with our purchase.