Customer Reviews
01/13/2020
LISA S.
United States
Love this couch. great quality
Love this couch. great quality for the price! I bought the larger one as well!
10/16/2019
Dhane R.
United States
Fitting, for the perfect use of space and class
Want a smart couch the sensible half of your brain won't assault you for? Here's a 72" wonder that makes you wish adulting were always this rewarding. Poly's leather is elegant, bright, supple, and feels higher class than the price suggests. The best feature may be the single long seat that is gently supported underneath: stiff enough to feel sturdy and yet comfortably plush. A pair of beams add to the midsection, seamlessly bracing the unit into 3 seats you'll never know existed with no central sag. This is PolyB's smaller sofa however, and yet this unit's size is everything you wanted in a classy couch but for flexible spaces. It doesn't feel shrunken, cheap, or compromised, but perfectly cozy and- dare say- proportional: a godsend here in New York. It's enormous for 2, and would "intimately" seat 3. Personally I crash here so often it should come with a Netflix coupon. The backs and bolsters add to the rich ensemble, fitting right into the game of "this could go for more... so I'll just tell my family it does". Finally, even after some abuses, it doesn't feel less sturdy. Instead it has given me confidence that we'll be keeping each other around for a long time ...unlike my first and irrationally expensive couch. Now if only other mature decisions were this comfortable...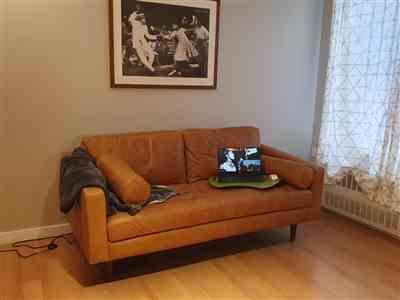 07/22/2019
Aaron L.
United States
Happy Camper
The 72" sofa is perfect for our space. We waited to order for a few months while it was out of stock, but once we ordered it arrived in a few weeks. The automated message communication was good during shipping and the delivery driver kept us up there date on arrival time and was friendly. The sofa is awesome. Color is as described, the leather quality is excellent, there are no weird smells, etc. We are extremely happy with our purchase so far.
As expected
The sofa is phenomenal. Only had it a few days but love the look. Firm but quality and the delivery experience was much better than other online retailers. Would use poly and bark again for sure. Sorry for the lone pic, still waiting on baseboards and cabinets but needed to see the sofa.