Customer Reviews
First purchase: high quality, well packaged.
Love this table. The other 30-31" white daisy table (iron base) was sold out, so I purchased this slightly more expensive one. I have a small breakfast nook but want a sturdy tulip-style that is safe to eat on with a durable, shiny surface. I looked around a lot on the internet and read a lot of reviews: there are cheaper versions that look similar sold by other vendors but the reviews were awful, with flimsy tops, tops that chip and stain easily, and lots of damage during shipping. I would rather pay more for a quality product, and this coating is strong and shiny; the base is very stury; the assembly was a piece of cake. The shipping and packaging were amazing: The top came packed separately in foam/cardboard, reinforced with exterior crating wood. The base came in a study cardboard box with reinforced plywood and foam on the top and bottom. Perfect condition. I ordered Friday and everything arrived from CA to FL by Tuesday. A+
Hey JR! Thanks for the awesome review! We've spent a great deal of effort over the past year making sure to improve our packaging quality and the strength and durability of our products - betting on the hope that people won't mind paying few extra dollars for something that's ultimately a better product and designed to last. We're glad you're loving it and hope that you'll reach out to us if you ever need anything in the future =) Warm Regards, -Ashley Poly & Bark
12/04/2019
Cara T.
United States
Love!
I've been looking for a white tulip table for a while but didn't want to shell out thousands of dollars to get one. The Daisy is perfect! I go the 48 inch round and it seats 4 perfectly with drinks and snacks for game night, and there is room for 6 for dinner. So happy! Now to find chairs....
12/02/2019
Susan F.
United States
We love our table!
The table is great. We love the way it looks, and it's a great size for our kitchen. It was very well packed. The delivery person propped it up against the garage door, but didn't let us know. When we went out through the garage and put the door up, the package slammed to the ground. Because it was so well packed, there was no damage!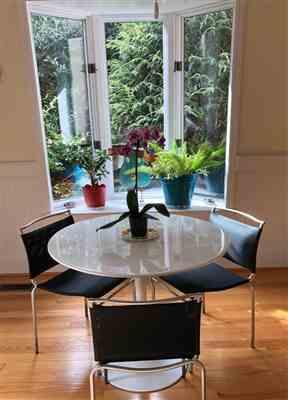 11/23/2019
lisa g.
United States
Daily Fiberglass Dining Table
Great table! Came well packed and is sturdy after easy assembly! looks fantastic ! I highly recommend this table
11/23/2019
Lisa D.
United States
Never received the table but charged
Never received