Customer Reviews
01/04/2019
Karah W.
United States
Like Buttah!
For me, like most people, buying a sofa online sight unseen is a very daunting decision. But for anyone considering this sofa - it is a true beauty, buttery soft leather and oh so comfortable! Here is a summary of my experience: • Delivery was prompt and courteous - a couple days earlier than the estimated day on my invoice. • It is very easily unboxed and unpacked, all you have to do to assemble is screw in legs. • The leather is buttery soft and feels durable, it has great character, depth and richness, true to the online imagery. • It is incredibly comfortable - I am 5'6", and I curl up into it just fine - I took an amazing nap on it the first day I got it :-D • While I can't speak for durability over time, it truly feels like a quality made piece, I'm hoping to have it for a long, long time! To anyone on the fence - I say go for it! It's a fabulous price (I shopped around a LOT - for over a year), it's made with quality materials and it's comfortable!
11/09/2019
Jeannie B.
United States
Love
I have finally unboxed my new couch and it could not have been easier to set up. Beautiful color and love the leather smell. Haven't officially moved into my new home yet so can't say much about use of the couch but seems like it will work just fine! Shipped and arrived quickly. Thanks for a great experience!
11/08/2019
Grace M.
United States
NEVER RECEIVED??
I wish I could tell you how amazing this couch is, but unfortunately I have yet to receive it. The shipping company used by Poly & Bark is atrocious. You cannot schedule ahead of time and they are extremely difficult to get in touch with if you need to reschedule the delivery because of something like, a job. Very disappointed that such a reputable company uses such a train wreck of a shipping service.
10/14/2019
Raina C.
United States
Exceptional sofa!
Words can't express how much I love this sofa. We first bought the apartment sofa and loved it so much we purchased the full sized one. The quality of the leather, the stitching, and the frame is amazing. They are great for lounging and at the same time beautiful. We couldn't be happier! If you are hesitant about buying online don't be! The staff and return policy make the entire buying experience pleasant and easy :)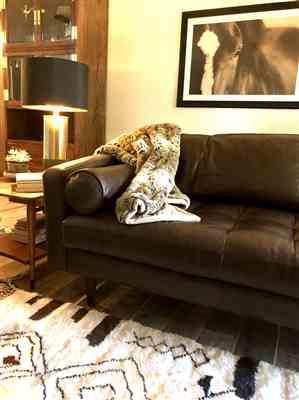 10/04/2019
Tyler J.
United States