Customer Reviews
Much more affordable than similar tables!
For a solid walnut table with extensions, you cannot beat this price. We always get complimented on our table and I love having it small when it is just my husband and I but adding the extensions in with family. Keep in mind you do see the knobs for extending visible under the table when it is not extended. When we extended the table we had no issues with it feeling unsteady. We comfortably fit 10 people when fully extended but 2 of those were children but still normal sized chairs. If you know you want to invest in a solid wood table this is a great choice! Plus stress-free that returns are free just in case!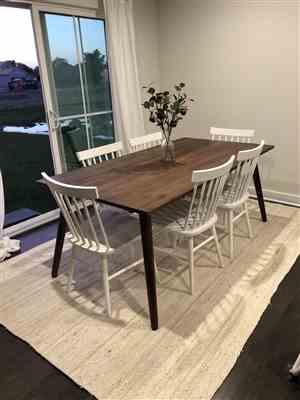 06/20/2019
Laura P.
United States
Great Dining Table
Besides the fact it took WEEKS for the table to arrive and it got delivered at 10:30pm at night, we love it. The table itself is very nice. I would not trust that it sits 12 people because it DOESN'T. This table sits 10 people MAX (squeezing it). I wouldn't say it's a comfortably large dining table, if you'd like to sit guests and have comfortable space, then you should sit 8 guests MAX.
06/07/2019
Rachael S.
United States
Beautiful!
Beautiful table - well packaged - easy and quick to assemble. We are very pleased!
Beautiful but lighter toned than it looks
For a solid walnut table that doesn't cost an arm and a leg this is it! Great quality and sturdy. The only point is that my floors are very dark and cool toned and this table does look cooler toned in the photos, not a deal breaker but something to note. We don't plan on using the extensions all the time but it's nice to have the options. Overall everyone loves it!
Too Big, Had to return
The table was actually rather nice, but it's MUCH bigger than the photos make it seems. Wish it was sold in a smaller size.
Hi Alice! Sorry that the size didn't work out for you. And you're right, it is a big table - about 6 ft long without the extensions and 9ft with the extensions. We've already gone ahead and processed your free return, but let us know if there's anything we can do to assist you =) -Kelly M. Poly & Bark Customer Care