Customer Reviews
Write a Review
Ask a Question
01/04/2019
Karah W.
United States
Like Buttah!
For me, like most people, buying a sofa online sight unseen is a very daunting decision. But for anyone considering this sofa - it is a true beauty, buttery soft leather and oh so comfortable! Here is a summary of my experience: • Delivery was prompt and courteous - a couple days earlier than the estimated day on my invoice. • It is very easily unboxed and unpacked, all you have to do to assemble is screw in legs. • The leather is buttery soft and feels durable, it has great character, depth and richness, true to the online imagery. • It is incredibly comfortable - I am 5'6", and I curl up into it just fine - I took an amazing nap on it the first day I got it :-D • While I can't speak for durability over time, it truly feels like a quality made piece, I'm hoping to have it for a long, long time! To anyone on the fence - I say go for it! It's a fabulous price (I shopped around a LOT - for over a year), it's made with quality materials and it's comfortable!
04/01/2020
Lindsey K.
United States
I've had this gorgeous sofa
I've had this gorgeous sofa for almost a month. It's comfortable, well made, durable and beautiful. I have 2 young children (ages 3 and 1) and a pit bull; there have been spills, jumps, diaper changes and naps- this sofa has withstood it all. The reviews and customer photos convinced me to go for it and I'm glad I did!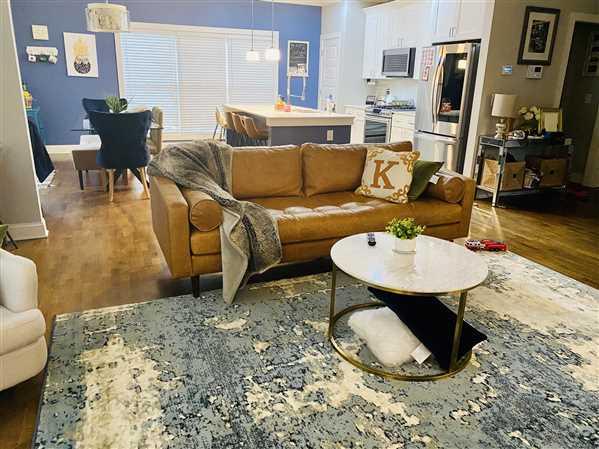 KB
03/28/2020
Kaitlyn B.
United States
We LOVE our Poly and
We LOVE our Poly and Bark sofa.
03/28/2020
Amy W.
United States
03/25/2020
Jackie S.
United States
I love my Napa sofa!
I love my Napa sofa! I had no issues with delivery. It was actually delivered way sooner than they said. Which I guess could be a negative in some cases. But it looks fabulous, and is very comfortable. I have no pets or kids so I can't speak to the durability...but SO happy I purchased it.