Customer Reviews
01/04/2019
Karah W.
United States
Like Buttah!
For me, like most people, buying a sofa online sight unseen is a very daunting decision. But for anyone considering this sofa - it is a true beauty, buttery soft leather and oh so comfortable! Here is a summary of my experience: • Delivery was prompt and courteous - a couple days earlier than the estimated day on my invoice. • It is very easily unboxed and unpacked, all you have to do to assemble is screw in legs. • The leather is buttery soft and feels durable, it has great character, depth and richness, true to the online imagery. • It is incredibly comfortable - I am 5'6", and I curl up into it just fine - I took an amazing nap on it the first day I got it :-D • While I can't speak for durability over time, it truly feels like a quality made piece, I'm hoping to have it for a long, long time! To anyone on the fence - I say go for it! It's a fabulous price (I shopped around a LOT - for over a year), it's made with quality materials and it's comfortable!
12/10/2019
Cris B.
United States
12/08/2019
Athena J.
United States
I love my poly and
I love my poly and bark sofa. I was so worried about buying it because it can get scratched easily and I have a bird, cat and a baby. When I decided that it was ok to have natural ware and tear marks though, I moved forward and bought the couch. I'm so glad I did. It has a natural look to it versus other plastic looking couches. It's spacious to sit in, comfy and soft, and the natural marks are beautiful in my opinion. If water gets in it, I simply wipe it off and then the couch temporarily has a darker mark. I put a leather conditioner on the couch and it's even more smooth. I'm happy with my choice. :)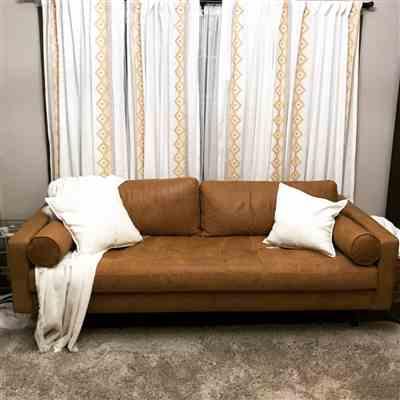 12/03/2019
Nicole B.
United States
Fantastic customer service and great
Fantastic customer service and great quality sofa and barstools. Our couch arrived damaged by the shipping company and Poly & Bark got us a new one still within the original time frame needed and arranged pick up of the damaged couch. The barstools sets we ordered are also some of the comfiest I have sat in.
12/03/2019
Pam L.
United States
Order swatches before making a
Order swatches before making a decision! I ordered the leather swatches as I am planning to purchase a sofa this year. You can scratch the leather and then rub or buff the scratch to get a nice idea of how the different leathers will wear over time.