Customer Reviews
01/09/2019
Alissa L.
United States
Talk Of The 'Hood
Exceeded my expectations. Longer and deeper than any other I saw online. Sturdy, super comfortable, and, dare-I-say-it, HAWT. I recently re-did this room and this sectional was the first purchase I made. It informed the design of the entire room! I smile every time I walk into the room. I LOVE THIS COUCH.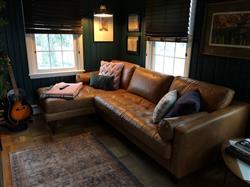 Hey Alissa, thanks for the kind words! We've worked really hard to make sure this is the best leather sectional you can find at this price, so it's super rewarding to hear from people who love it - makes all the hard work worthwhile =) As always, if you happen to run into any issues or if there's anything else we can help you with, we're always here for you and will do our best to make sure you love every purchase you make with Poly & Bark. Yours sincerely, -Andrew Poly & Bark Customer Care
01/11/2020
Chase C.
United States
01/11/2020
Macario M.
United States
The sofa is great! We
The sofa is great! We have no regrets. The only thing that I did not like was your shipping provider. I scheduled a delivery time and date with them and I left work early that day losing a few hours of work just so I could be there to receive sofa. Well they never showed up and they did even bother to call me to let me know that they where not going be coming, I had to call them to find out what had happened to my scheduled delivery appointment and they had no idea what had happened like they have. I communication between them self. So then finally they reschedule a delivery appointment and for that I had to leave work early again. Definitely very disappointed with the delivery provider.
01/11/2020
Elizabeth W.
United States
Exceeds expectations! We were on
Exceeds expectations! We were on the fence about spending the money if though it's a great price, but we are so glad we did! Wearing well with pets and kids and food and drink-it holds up to everyday life!
01/06/2020
Keli M.
United States
We LOVE this couch! It's
We LOVE this couch! It's a great size and looks fantastic!! However, if "scratches" on leather stresses you out, this may not be the one for you. We think the wear marks make it look unique. And, is it comfortable! The leather is so soft and doesn't make those "squeaking" sounds that leather can make sometimes. It's also been easy to clean so far. Our little ones have had small spills that have wiped up without leaving a waternark. LOVE!