(
Napa Right-Facing Sectional Sofa
features
Full-grain pure-aniline (cognac tan) or semi-aniline (all other colors) dyed Italian tanned leather upholstery
Cognac tan color features a non pigmented leather accentuating the natural beauty of the hide. The leather will scuff and will develop into a beautiful vintage patina with use
Each hide is unique and will vary in depth of color
High density foam with polyester filling
Feather down topper on seating surfaces
Pirelli webbing
Feather down and fiber blend seat-back cushions and bolsters
Loose, non-reversible seat and back cushions
Loose bolsters included
Solid wood legs in a mahogany finish
Simple assembly required (approximately 10 minutes)
details
Item Weight:  163 lb
Use: Recommended for indoor use only
Materials: Pure-aniline (cognac tan) or semi-aniline (other colors) dyed leather, Kiln dried solid wood, high-density foam, polyester, duck feathers
Truck Delivery: This item ships via freight truck and will be delivered outside to the entrance of your home or building at the ground level. At checkout, you will have the option to upgrade your delivery to Inside room (Room of choice on any floor), or Inside room + Assembly (White glove). Please note: upgraded delivery options are non-refundable once the item has shipped. During checkout, you will be provided an estimated delivery date window. Our delivery partner will contact you prior to your delivery date to schedule a delivery appointment.
Model:

PB-389-RS-TAN
Premium Sofas Start
with Premium Materials
All our leather sofas come in two premium Italian tanned leather options: Full-grain pure-aniline and full-grain Semi-aniline. Pure-aniline leather which comes in the Cognac Tan color is not sanded or pigmented, accentuating the natural beauty of the hide. Pure-aniline leather will scuff and develop into a beautiful vintage patina with use. Our soft semi-aniline leather which includes all other colors, are treated for long-lasting smoothness. Each hide is unique and will vary in depth of color.
Poly & Bark at Home.
Get Inspired.
Customer Reviews
Write a Review
Ask a Question
Talk Of The 'Hood
Exceeded my expectations. Longer and deeper than any other I saw online. Sturdy, super comfortable, and, dare-I-say-it, HAWT. I recently re-did this room and this sectional was the first purchase I made. It informed the design of the entire room! I smile every time I walk into the room. I LOVE THIS COUCH.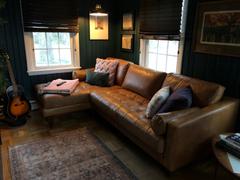 Hey Alissa, thanks for the kind words! We've worked really hard to make sure this is the best leather sectional you can find at this price, so it's super rewarding to hear from people who love it - makes all the hard work worthwhile =) As always, if you happen to run into any issues or if there's anything else we can help you with, we're always here for you and will do our best to make sure you love every purchase you make with Poly & Bark. Yours sincerely, -Andrew Poly & Bark Customer Care
08/11/2020
Jessica W.
United States
I felt compelled to leave
I felt compelled to leave a review here because of how much I love my Napa right-facing sectional. I shopped around a lot, and this seemed to be the best quality sectional for the price that I could find, so I decided to go for it. When I first started looking they were sold out, but I emailed customer service, which was very quick to respond, and they told me when they anticipated their next shipment was coming in and signed me up for an alert email. About a week or two later, I got an email saying they came back in stock and I ordered one right away. It arrived quickly (I almost ordered a couch from a competitor, but the shipping time was 10 weeks and it was more expensive) and the company they used for shipping was fantastic. It was easy to "put together" and I couldn't be happier with my purchase. It is comfortable and looks great. I also purchased a rug from Poly and Bark to go with it (seen in the photo, still working on adding a table and decor) and will buy more from here in the future. If you're on the fence about this couch, get it!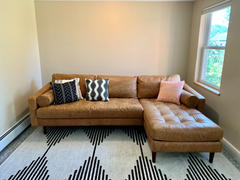 08/01/2020
TallyMom
United States
Wow, I read all the
Wow, I read all the great reviews, but somehow I still thought there's no way I can get a high quality leather sectional for under $3,000 including tax and free shipping. This is such a comfortable, stylish and well made couch. I can't say enough good things about it. And my skeptical husband, who loved our well worn pleather **** couch that we'd had for 15 years and didn't want to part with, is also really happy with this purchase. Shipping was almost two weeks quicker than estimated! I was worried when the couch arrived because the very nice delivery guy would not bring it in the house and the box simply didn't look large enough to hold a sectional couch. I almost turned it away because it was raining and I was home alone. Instead I threw a tarp over the box and waited for the rain to stop and my neighbor and husband to help me unpack. In hindsight my husband and I could have done it alone. Each piece is easily carried by two people and assembles very easily. This is our first purchase from Poly & Bark, but it won't be our last. Customer service has been phenomenal. There was only one "negative" and that is the slight smell that 5 days later is still lingering a tiny bit, but I have no doubt it will dissipate completely soon. It's not an awful or even particularly strong smell, but there is an odor it has given off these early days. And I have a really sensitive nose. My husband hasn't mentioned it at all. On the FIRST night we had the couch I spilled a little bit of water on it and I worried that it would stain, but I wiped it off and it dried perfectly fine. No signs of the spill after drying. I did purchase a leather protectant that I will use, but it seems to have come with some protectant already applied. At first it seemed the cushions were not quite wide enough to fill the space, but as we've sat on the couch the cushions now fill the space perfectly (and the cushions didn't "flatten", they just kind of magically expanded to fit the space - no doubt an intentional design). I could go on and on. This is a couch we will have for many many years - decades even.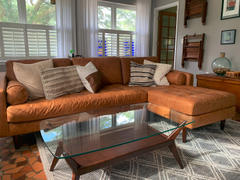 07/31/2020
Nicole C.
United States
I absolutely love my new
I absolutely love my new Poly & Bark couch. Every single review on here praising it is spot on. I read all of them before buying and was still hesitant to buy a couch online that was relatively expensive for my price range. But it most definitely did not disappoint. Here are a few things I wished other people had written about in their reviews when I was reading through and trying to decided whether or not to buy. The leather is so soft, and not "sticky" or excessively shiny like other leathers can be. The couch itself is extremely comfortable (not too soft, not too firm), even right out of the box. The seat height is perfect; I'm 5'7" (with long legs) and my knees don't bend more than 90 degrees, but my feet also don't dangle off the edge. The wooden legs are gorgeous. The bolster pillows are so cute and work great for napping. The color of the leather is just slightly lighter than the pictures shown above. As others have mentioned, the fabric is sensitive to scratching, but that was expected given the reviews I read and the quality of the leather. And finally, delivery was a little bit of a hassle, but that's no fault of P&B. Overall, I totally love this couch even more than I expected to. Couldn't imagine giving it anything less than 5 stars! Thanks P&B for making a beautiful AND affordable leather sectional.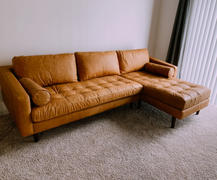 07/19/2020
Kim
United States
The Napa Left-Facing Sectional was
The Napa Left-Facing Sectional was our first furniture purchase for our new golf cottage and my husband and I both love it! It arrived on time, was very well packed, a cinch to put together and it is ever so comfortable. We had never purchased furniture online, and were quite anxious about doing so, but Polly and Bark made this experience seamless and pleasant! Thank you!