Customer Reviews
Write a Review
Ask a Question
01/09/2019
Alissa L.
United States
Talk Of The 'Hood
Exceeded my expectations. Longer and deeper than any other I saw online. Sturdy, super comfortable, and, dare-I-say-it, HAWT. I recently re-did this room and this sectional was the first purchase I made. It informed the design of the entire room! I smile every time I walk into the room. I LOVE THIS COUCH.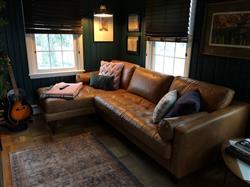 Hey Alissa, thanks for the kind words! We've worked really hard to make sure this is the best leather sectional you can find at this price, so it's super rewarding to hear from people who love it - makes all the hard work worthwhile =) As always, if you happen to run into any issues or if there's anything else we can help you with, we're always here for you and will do our best to make sure you love every purchase you make with Poly & Bark. Yours sincerely, -Andrew Poly & Bark Customer Care
02/15/2020
Carlene
United States
We were looking for a
We were looking for a new sofa for our OBX beach home. We were nervous to make a purchase sight unseen. After months of searching we kept coming back to the Napa sectional. So...we did it and we love it. It came very well packaged and it was so easy to put together. It is the perfect sofa and looks great. It is very good quality and should hold up to our family of children and dogs just fine.
02/06/2020
nicole r.
United States
the sofa looks nice but
the sofa looks nice but it could be improved if it had more padding to make it feel more luxerious. Feels a bit like a park bench...
02/03/2020
Kimmarie S.
United States
Absolutely LOVE it! Exactly what
Absolutely LOVE it! Exactly what I had hoped for when I ordered. So pleased. Customer service was wonderful. Thank you
01/28/2020
Leilani .
United States
This was my first time
This was my first time buying a couch on my own and after doing extensive research I happened upon this website. I was somewhat skeptical because I'd never heard of this company and there weren't many reviews at the time. But after owning the couch for 6 months I can say I am SO HAPPY with my purchase. Not only is the couch beautiful (pictures don't do it justice), high quality, sturdy, and very comfortable but Poly & Bark's customer service was so nice and helpful during the delivery process. I have two dogs who often play on the couch and although they occasionally leave some scratches, the couch still looks basically brand new. Highly suggest buying this!